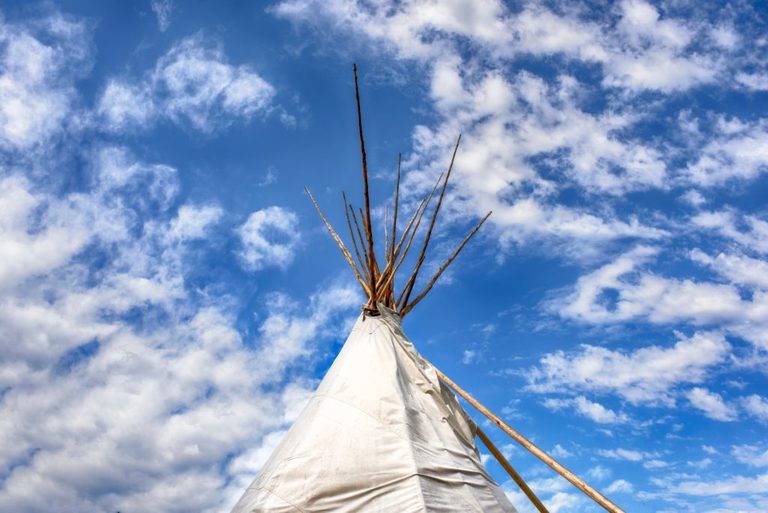 Blue Mounds State Park is located in the southwest corner of Minnesota in a tiny town called Luverne. It is one of the largest prairie parks in Minnesota at 1500 acres. The drive there is through farm country you will see a lot of farms, windmills, and crops.
Blue Mounds was the very first place Steve and I camped together. Steve didn't think I was serious when I said that I love to camp. When I asked him if he wanted to stay in a tipi on the prairie, it was then that he knew I wasn't kidding! On our first trip we spent three nights in a tipi. Don't expect any creature comforts in these tipis. We brought along a blow up mattress to avoid having to sleep on the hard ground. I recommend bringing some sort of mat to sleep on, unless you're young and your body can handle sleeping on the ground. It is for sure a unique experience and I think everyone should sleep in a tipi just once.  
The park has 13 miles of hiking trails, a lot of these trails are mowed paths through the prairie, but it does get a little more exciting as you near the rock outcropping.
The park is home to a 1.5 mile long Sioux quartzite formation, at its tallest peak it is 90 feet. This attracts rock climbers from all around, which is slightly terrifying to watch. 
The view from the top is pretty spectacular, since its so flat you can see for miles. 
The park is also home to a herd of bison. We were lucky enough to see them on our first trip. 
There are prints available for purchase here. 
There is plenty of other places to explore near by too. Within miles of the park is Touch the Sky Prairie. We got to catch a double rainbow here. The sky feels so much bigger in southern Minnesota, so the storms are pretty amazing to witness.
There are also numerous state and county managed lands to explore. I can't remember off hand where we found this place, but it was relatively close to the park.
One of my very favorite things about prairie land is the wildflowers and the fireflies. On our second trip to the area we found a perfect field and laid in the grass waiting for the fireflies to come out. I have to say, I don't know many people that would do this with me, but Steve gets it, and enjoys the little things just as much as I do. 
About 25 minutes north is the Pipestone National Monument. This is worth the visit. There is a waterfall, and a lot of history to learn in the museum. They also have live demonstrations by Native Americans. 
If you head west for about 30 minutes you will find Palisades State Park in South Dakota. This is a beautiful park that had nice campsites too. We just did a short hike while there, but I would return. 
THINGS TO KNOW BEFORE YOU GO:
The campground does not have safe water. Fill your tank prior to coming and bring plenty of drinking water. 
The best campsites are the non- electric ones along the edge of the campground. 
There is a bathroom with flush toilets….no showers.
There is an RV dump station, just not a place to fill due to water contamination. 
I think the park used to have a swimming pond, but it no longer exists. 
The tipis are cart in sites
It is windy, hence all the windmills. 
There is something about the prairie that I just love. The wildflowers, fireflies, and the big sky hold a special place in my heart. You almost feel as though you've stepped back in time when you visit. There isn't the hustle and bustle of the city, only the crickets and prairie grass swooshing in the wind.
I highly recommend checking out Blue Mounds State Park and the surrounding areas. Oh, and if you get the chance, rent the tipi…
About the images in this post. All of these images were shot with my Nikon d750. The lenses used were the Nikon 70-200mm, Nikon 35mm, and my Tokina 16-28mm.
disclosure: This post may contain affiliate links, which means I may receive a commission if you click a link and purchase something that I have recommended. While clicking these links won't cost you any extra money, they will help me keep this site up and running!