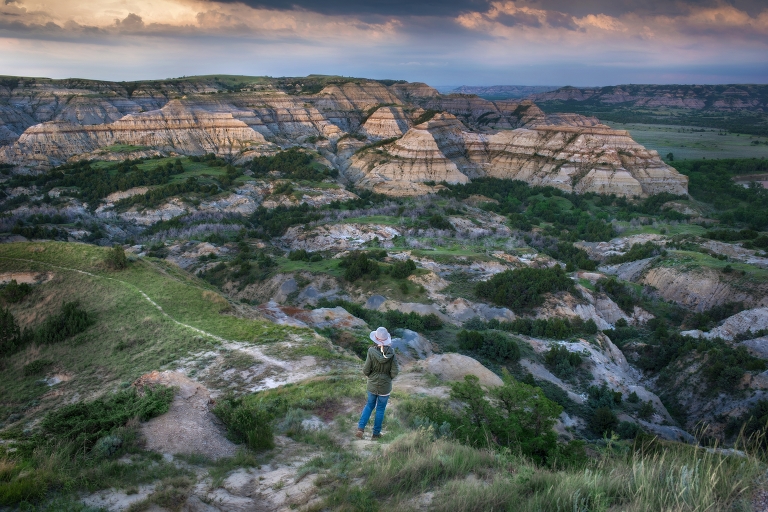 Last summer we took a week long trip to Theodore Roosevelt National Park. The park is divided into three sections, north unit, south unit, and Elkhorn Ranch. We had visited the south unit the summer before and loved it so much that we planned our return trip. This time we wanted to camp and explore both units, and I am so glad we did!
(make sure you are following along on Facebook so you never miss a post.)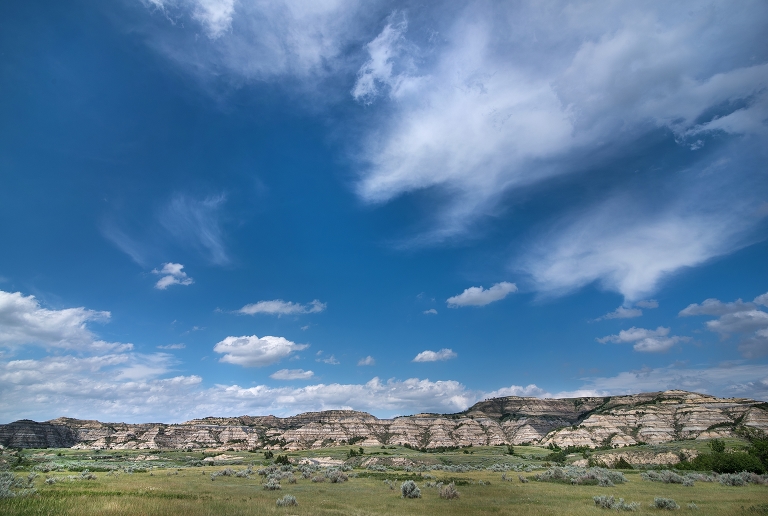 The north unit is smaller than the south, but what it lacks in size it makes up with wow factor. The north unit has jaw dropping landscapes. The slump formations are much bigger and pronounced here. Because the landscape is more picturesque here we felt the hiking trails were also better than the south units.
While here we saw bison, prairie dogs, deer and the elusive longhorn steers. There are rattlesnakes in the park, although we never came across any. The bison in both units are not scared of humans and will saunter wherever they like. We had to wait a good ten minutes for a few of them to move off the road. 
The north unit has a 14 mile scenic drive which is a wonderful way to see the park, especially if you are lacking on time. 
OUR FAVORITES:
If hiking is your jam, I highly recommend the Caprock  Coulee Trail, it is 4.2 miles in length and has a ascent of 631′. We did this trail in 3 hours, this was with lots of photo op stops. The views along this trail are outstanding and well worth the time. Bring lots of water.

CAN'T MISS PHOTO OP – Sunset or sunrise at Oxbow Overlook. This is in my opinion the best view in the park.  We literally had the spot all to ourselves.
Eat dinner at Outlaws Bar and Grill. Great food and neat atmosphere.
Don't miss the cannonball concretions.
THINGS TO KNOW BEFORE YOU GO:
The north unit is smack dab in the middle of an oil boom town (Watford City) there is very little to do there beyond the park. The south unit is far more family friendly.
The Juniper campground (in the park) is first come, first serve. We didn't have an issue getting a spot mid week but by the weekend it was full. The town does have hotels.
There is no shower facility, but they do have flush toilets.
There is a dump station and water fill here. There is not one at the south unit. Plan your trip with the south unit first if you want to be able to dump your tank at the end of your trip.
The natural water here is not potable, bring lots of water on your hikes. It does get hot.
North Dakota can be crazy windy…consider yourself warned.
Dogs are not allowed on trails in National Parks but are allowed in the campground.

TRNP has a special place in our hearts, so much so that we are heading back this summer to say our vows. There are very few people here and the wild horses in the south unit really make you feel like you are experiencing this place as it once was.  While I know North Dakota may not be on the top of your travel list, you should not miss this park! 
About the images in this post. All of these images were shot with my Nikon d750. The lenses used were the Nikon 70-200mm, Nikon 35mm, Nikon 50mm and my Tokina 16-28mm.
If you have any questions about the images or the park, ask away in the comments. 
disclosure: This post may contain affiliate links, which means I may receive a commission if you click a link and purchase something that I have recommended. While clicking these links won't cost you any extra money, they will help me keep this site up and running! 
" Keep your eyes on the stars, and your feet on the ground."
-Theodore Roosevelt